BOARD OF COMMISSIONERS, District 3
Tim Hodges, Republican
Hodges for Commissioner on Facebook
Hodges is running to extend the family's influence on the county commission, following his father Jimmy Hodges who is retiring this year from the commission (from a different district). Father Hodges is a Chamber-of-Commerce Republican who used to be a conservative Democrat who would from time to time pay lip service to various Democratic projects, like the new county recreation center.
Tim Hodges also followed his father into the local real estate business, and Tim and his brother Jamey now own and run Hodges and Company Real Estate. He serves on the Board of Directors of the Boone Area Chamber of Commerce, the Watauga County Economic Development Commission and the Watauga County Cooperative Extension Advisory Board. He's a graduate of the Boone Chamber-sponsored Watauga Leadership Challenge and a member of the Watauga Cattlemen's Association.
Where he stands on most issues facing the county is anyone's guess. He is opposed to the county's new community recreation center and supports more armed security guards in local schools. Asphalt plant on the Scenic Byway? Pay raises for county employees? He introduces himself on his Facebook page as a native of Watauga County, a conservative, and a member of Mt. Vernon Baptist Church but is silent on any issues. Should the upcoming candidate forum on October 23rd shed any light on his platform, I will update.
Billy Kennedy, incumbent Democrat
Billy Kennedy for Watauga on Facebook and billykennedyforwatauga.com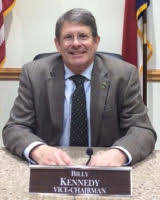 Kennedy was first elected to the Board of Commissioners in 2012, was reelected in 2014 to a 4-year term, and is now seeking his 3rd term. He is one of the most effective commissioners for being deeply involved in the boards and commissions that he sits on, is always thoroughly briefed on the commissioners' packet and the issues before him, and is a dependable progressive voice on the Board.
He is tireless, and has been an exceptionally strong backer of public education, raises for county employees, the new county recreation center, and he was outspoken in opposition to a new asphalt plant on the Doc and Merle Watson Scenic Byway.
Watauga County needs leaders that move progress forward, instead of trying to take us back.
Kennedy continues to be deeply invested in our community. For several years he engaged local issues as host of Watauga Talks on WATA-AM, and he's been a dependable volunteer for local projects like the community shelter in Bethel which he put his hands and building skills to helping complete.
He's a flat-out awesome and progressive commissioner, the kind of commissioner I want running things in Watauga.