BOARD OF COMMISSIONERS, District 5
Tommy Sofield, Republican
tommysofield.com and Tommy Sofield on Facebook
Sofield is a native Virginian, came to ASU on an athletic scholarship in 1971, and played varsity football for four years. While still a student, he launched a chain of Yogi's restaurants, catering to college students at ASU, NC State, and Mars Hill College. He got into real estate, buying and managing rental properties, and then into selling steel buildings which led him into manufacturing that same product. He branched out into explosion-proof buildings for toxic and volatile chemicals and then into ammunition storage facilities and military armories. Among other businesses, he also owns Mountaineer Cleaners and builds/sells backyard storage structures and high-end timber-frame buildings. He is an active member of Mt. Vernon Baptist Church.
In other words, Sofield looks for the world like a Chamber-of-Commerce type Republican, someone who would (and apparently does) support the new County Recreation Center. (He's vocal about wanting the Rec Center to produce a positive cash flow.) In almost the same breath, however, Sofield condemns raising any taxes to pay for new infrastructure or expand county services. He complains about the lack of a comprehensive plan for the county, ignoring the fact that a comprehensive plan was developed (Charlie Wallin, his challenger, had a big hand in it) and then promptly shoved to gather dust on the shelf by the Republican Board of Commissioners.
Interesting for a Republican Party always dead set against land-use planning, Sofield came out for "controlled growth" in his interview with the Blowing Rock News. He would also like to get his hands on Boone's new water supply for increased development countywide.
Sofield calls for more support for education, especially replacing aging school buildings, but how he squares that position with the Republican mantra of cutting taxes is another matter.
Charlie Wallin, Democrat
Wallin for Commission on Facebook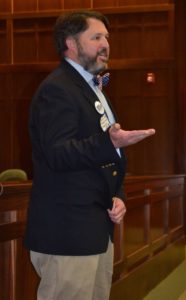 Wallin has worked for almost 30 years in food service management and is currently the Assistant Director of Food Services at Appalachian State University. During his tenure at ASU he has served on the Appalachian State Board of Trustees, on the committee that wrote the Strategic Plan for ASU, and as President of Appalachian State Staff Council. He's been a member of the Diversity Celebration and Unity Festival Planning Committee, Chair of the Occupational and Safety Committee, and a member of the University Safety Council.
Wallin was previously the Vice-Chair of the Watauga County Planning Board and subsequently chaired the Planning Oversight Group which completed the Citizens' Plan for Watauga County, the last comprehensive plan developed for the county. He is also the Vice-President of the Raven Rock Property Owners Association. Active for many years with the Watauga Democratic Party, Wallin is currently Chair of the party's 5th Congressional District committee. He has run for office before, for both county school board and for the 5th District congressional seat in 2016.
Wallin's platform includes seeing the new county recreation through; increased funding for the sheriff, fire departments, and ambulance service; an improved county employee pay structure; and stronger funding for the public library and local schools. He is frustrated by the state legislature's continued unfunded county mandates. He wants to focus the County's economic development on ways to promote and attract small to medium size businesses, and he supports a collaborative effort of resources to make our schools safer.