Candidate Discussion
(in Ballot Order)
US HOUSE OF REPRESENTATIVES, District 5
Virginia Foxx, incumbent Republican
virginiafoxx.com and Virginia Foxx for Congress on Facebook
Foxx is easy to satirize and mock, but she's no laughing matter. In many ways, she's the perfect complement to Donald J. Trump, since she's always been about self-promotion and what's "in it for me?" She's mean by nature and selfish by nature and, I think, dishonest by nature. Many people laugh about the way she stuffs her handbag with free food at buffet events, but it's an index to her character: "All for me, none for you. If it's just lying there, I'll take it!"
Another index to her character: She's worked to mislead people in her district to think that she's a Southern Baptist, when she's actually a Roman Catholic. Doesn't that speak to an inherent dishonesty?
Foxx is clearly terrified of confrontation of even the mildest sort, since she absolutely refuses to hold town hall type meetings except for the phone-in sort, where she can pre-screen the callers.
She brooks no opposition, but she's brittle to the touch. She's also remarkably flexible in her views when getting ahead politically is to be gained. She used to be a feminist, a supporter of abortion rights and of the Equal Rights Amendment, but when rising in the Republican Party meant she had to give up those views, they got thrown out with the trash. She also once was considered "gay friendly," but now she takes the opportunity to dismiss gays, even those who have been tortured and killed because of their sexual orientation. And even with their families sitting in the audience.
Her voting record is 100% anti-progressive on every front. Just the other day she even stuck it to her home state by being the only member of the North Carolina congressional delegation to vote against $1.68 billion in recovery funds for the Carolinas after Hurricane Florence. Sometimes she's mean just for the hell of it.
DD Adams, Democrat
ddadamsforcongress.com and DD Adams for Congress on Facebook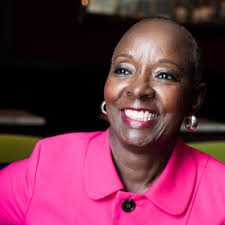 Adams won the Democratic nomination for the US House in the May 8th primary. She ran against Jenny Marshall, who ran a very organized and energetic campaign, by carrying Forsyth County alone. Marshall carried every other county in the 5th District.
Forsyth gave Adams the nomination because they know her — she's been on the Winston-Salem City Council since 2009 — and they like her for her performance, and they like her for this job. I like her too. She's got courage and forthrightness and a stout heart, and she brings a damn good presence that makes her a riveting speaker, and people who meet her tend to support her.
I support policies that serve our communities: a safe, healthy society, a strong economy and well-educated workforce. I believe that within our local communities and in our greater society, we all benefit when families and individuals are able to achieve their highest potential. I also have REAL WORLD experience. I've worked hard, been downsized, been laid off, been underpaid, lost my health insurance, been a Teamster, faced inequality—and that makes me an even better representative for families in our District.
Adams is the eighth Democrat to take on incumbent Republican Virginia Foxx, who has rolled seven previous Democrats since her first election in 2004. Republicans assume Adams will be her eighth. Foxx's campaign war chest, her well known constituent services, and her image as a good old Baptist grandma with a reputation for stinginess – that's the persona that gets Foxx reelected (even though it's not who she really is.)
Forsyth is the key to an Adams' win, and Forsyth supports Adams because they know her well. Watauga (Foxx's home county) doesn't support Foxx because we know her well.
Plus — let's just get this over with — DD Adams is African American in a House district where even registered Democrats wouldn't vote for Obama in 2008 because… Civil War. I know it, you know it, we all know it. So how on earth can Adams ever win it?
Foxx was last reelected in 2016 with 207,625 votes against Josh Brannon's 147,887. That's her highest vote tally ever:
— 96,000 votes — that's all she got in her first reelection contest in 2006 against Roger Sharpe
— 190,000 – 200,000 votes — her totals in presidential years, always winning easily
— 140,000 votes — her standard tally in non-presidential years, which also gets her reelected easily, but then she's never had all of Forsyth County in her district before either, and those new voters are blacker and also more educated (Wake Forest University is now in her district).
In other words, Foxx's hardcore base is somewhere between 96,000 and 140,000 voters in non-Presidential elections. (In presidential years, another 60,000-80,000 Republicans show up and vote for her, but they don't pay that much attention to her otherwise.)
So let's say only Foxx's hardcore base — up to 140,000 voters — turns out for her in the non-presidential year of 2018 — why, Forsyth and Watauga alone could elect Adams, if Democratic enthusiasm continues to run high. AND if Adams can pull a substantial proportion of unaffiliated votes:
Forsyth County
104,381 registered Dems
76,486 registered Unaffiliated
(Republicans number 75,734)
Watauga County
12,137 registered Dems
19,000 registered Unaffiliated
(Republicans number 14,036)
Realistically, Adams needs decent Democratic support in all the rural counties. With heavy turnout in Forsyth and Watauga, and with respectable support in the other counties, she has a shot at winning. Yes, she can.
NC STATE SENATE, District 45
Wes Luther, Democrat
LutherWK on Facebook and wes4ncsenate.com
Wilkes County Democrat Brandon Anderson originally filed for this race but dropped out. Luther stepped forward to fill the slot in an act of courage worthy of Luther's personal history as a 7-year veteran of the Marine Corps.
He's returned to ASU following his military service to study sustainable technology. And he's jumped into the deep end with the same kind of courage that you'd need in the Marine Corps. I really like him. He's been out there knocking on doors and registering new voters, taking his message to the streets. He says he's running for office because the issues the state is facing are being ignored by the leadership in Raleigh:
My priorities are public education and sustainable businesses for a clean future for North Carolina. The current legislature in Raleigh has been funneling our tax dollars to private schools, and encouraging industries that pollute our air and water. This is against everything North Carolinians stand for.
I am honored to cast a vote this year for this young and talented first-time candidate.
Deanna Ballard, incumbent Republican
ballardfornc.com and Deanna Ballard NC on Facebook
I confess that I find Ballard much more approachable and palatable than her predecessor Dan Soucek. She reminds me of a teacher I once had who was nick-named "The Smiling F" for the charming smile she wore while simultaneously marking your paper with a failing grade.
I have noticed that since Ballard assumed Soucek's seat, the Watauga congressional delegation has been less inclined to issue disastrous "local bills" against the Town of Boone. (Bills that single out Boone to punish and which cannot be overridden by a governor's veto). Such bills require the support of both our House and Senate representative, and I seriously doubt Jonathan Jordan has lost his taste for them. I am left thinking Ballard has refused to play that game, and I am appreciative of that.
Nonetheless, Ballard's main qualification for this office is that she works for Franklin Graham at Samaritan's Purse, just as former Sen. Dan Soucek did. Apparently, The Higher Powers have decided that Franklin Graham needs and deserves his own personal senator in the NC General Assembly.
Ballard projects warmth more than competence, but you don't have to be competent when you're merely following orders. Bottomline, with the possible exception of those punishing local bills, Ballard votes the party line on everything, and has never shown the first spark of independence from that party line. She is anti-choice, supports the hog farm industry over the rights of their neighbors, does not support any gun restrictions, and believes churches are targeted by heathens.
She has also voted against voter rights, and supports all six legislative powergrab amendments at the bottom of your ballot.
NC HOUSE OF REPRESENTATIVES, District 93
Jonathan Jordan, incumbent Republican
Jordan4NCHouse.com and Jordan 4 NC House on Facebook
Jordan has been in office since defeating incumbent Democrat Cullie Tarleton in 2010 in a low-blow campaign that involved photoshopping Tarleton into a sombrero, darkening his face, and then lying about his record. That's the level at which Jordan plays and that's how he holds onto a seat that he otherwise doesn't seem that interested in. (His personal life has reportedly been in turmoil for years– divorce, rumors of shacking up in Raleigh — so maybe he's been too distracted to actually serve his constituents.)
It's a given that Jordan lies about his own record, claiming his term in office has been a godsend for public education and that he's a champion of property rights even when he voted to allow frackers to drill under private property for natural gas without the land owners permission and voted to refuse neighboring properties of hog farms any meaningful justice in the courts.
Jordan has voted in lock-step for every bad law that's come through the General Assembly and for every veto-override against Governor Cooper. These stand out for me:
— He voted for state budgets that failed to keep up with the strains on our educational system while flattening taxes for the very wealthy and for corporations. At a recent candidate forum at ASU, Jordan bragged about "putting more money into education." Russell, his opponent countered that Jordan's statement was "smoke and mirrors," and that Jordan had actually cut funding by 8%.
— He voted for election law changes that cut the number of Early Voting sites in the state by 20%, eliminated same-day registration and straight-party voting, banned provisional voting (including out-of-precinct ballots cast by duly-registered, legitimate voters), among other provisions meant to suppress the vote so he could win. Some of these laws were later overturned by the courts, but he's supporting the six Constitutional Amendments on this year's ballot to take the power away from the courts and give it to himself.
— He voted to ease restrictions on polluters by cutting the budget of the Department of Environment and Natural Resources, but most particularly he voted to open this state to fracking. (Jordan actually said at an Ashe County candidate forum that no gas well has ever been polluted by fracking. He really did, I hard him myself.)
— He voted to impose new and insulting restrictions on abortion.
— He singled out the Town of Boone, among all the municipalities in the state that have Extraterritorial Jurisdictions (ETJs), to deprive it of control, primarily to suit the wishes of one principal family of Boone developers.
— He co-sponsored the House Resolution that called for the establishment of a state of North Carolina religion. I'm not making that up. Fortunately, the resolution died in committee.
At the recent ASU candidate forum, Jordan says he still supports HB2 (the bill that requires people to go to the bathroom identified for their biological sex). "There's no reason for the state to tell people where to go to the bathroom," his opponent Russell responded.
Ray Russell, Democrat
rayfornc.com and Ray Russell for NC on Facebook
Russell as been known for many years in western North Carolina as the Ray of Ray's Weather, an informative and (one might say) essential, on-line, scientific weather-forecasting service. He was until last year an unaffiliated voter who discovered he could no longer sit silently on the sidelines as science itself came under attack from political forces wanting to deny reality.
A great supporter of education and a defender of the environment, Russell will offer a major change in Watauga-Ashe's representation in Raleigh.
In the last 10 years, if you look at the fair measure of per student spending adjusted for inflation, which is the only fair way to look at is, there's a cut of 8 percent in (school) funding–$820 cut from each student's funding adjusted for inflation. In Ashe and Watauga counties alone, $5.5 million are not in the state budget for these two school systems.
And he will be incorruptible by big money. Many don't know that Russell trained for the Christian ministry, and he still brings a high-minded honesty to everything he undertakes.
In modern history, the level of trying to scapegoat groups, trying to disenfranchise people, trying to slice and dice the electorate and the nature of the conversation has become so ugly, so rude and so disjoint from real issues. In many cases, people have been so ugly in their campaigns that it puts them in a position where they cannot effectively lead as elected officials. Twenty years ago, there were issues, but they didn't cross the line to the point that they couldn't pivot and make a legitimate case of leading and uniting people.
Russell has been endorsed by the National Association of Educators for his commitment to early childhood education, financial support for local schools and teachers, and better support for the state's community colleges. Russell's campaign is also supported by the North Carolina Sierra Club and The League of Conservation Voters. He opposes Fracking, believes in Climate Change and wants to do something about it, believes offshore drilling is "a critical Threat," and insists the effective clean-up of 14 coal ash sites in North Carolina has to be a major priority.
Russell has run an energetic, mostly positive, and smart campaign and has shown people that he wants the job (unlike the incumbent), and he deserves the job.
DISTRICT ATTORNEY, District 35
Seth Banks, incumbent Republican, unopposed
Seth Banks for District Attorney on Facebook
Banks has served as District Attorney for Avery, Madison, Mitchell, Watauga, and Yancey counties since 2014. Before becoming District Attorney, he worked as an Assistant District Attorney and in private practice and is a native of Yancy County.
My local sources tell me Banks has worked hard to clean up a backlog of court cases and that he has implemented some good new statewide programs over the last couple of years. Most also note, however, that Banks' Assistant District Attorneys are "disorganized, and very inefficient," with sometimes poor communication to witnesses and very little victim followup.
Bottomline: Banks is described to me as a good DA with very poor support staff. He should do something about that.
BOARD OF COMMISSIONERS, District 3
Tim Hodges, Republican
Hodges for Commissioner on Facebook
Hodges is running to extend the family's influence on the county commission, following his father Jimmy Hodges who is retiring this year from the commission (from a different district). Father Hodges is a Chamber-of-Commerce Republican who used to be a conservative Democrat who would from time to time pay lip service to various Democratic projects, like the new county recreation center.
Tim Hodges also followed his father into the local real estate business, and Tim and his brother Jamey now own and run Hodges and Company Real Estate. He serves on the Board of Directors of the Boone Area Chamber of Commerce, the Watauga County Economic Development Commission and the Watauga County Cooperative Extension Advisory Board. He's a graduate of the Boone Chamber-sponsored Watauga Leadership Challenge and a member of the Watauga Cattlemen's Association.
Where he stands on most issues facing the county is anyone's guess. He is opposed to the county's new community recreation center and supports more armed security guards in local schools. Asphalt plant on the Scenic Byway? Pay raises for county employees? He introduces himself on his Facebook page as a native of Watauga County, a conservative, and a member of Mt. Vernon Baptist Church but is silent on any issues. Should the upcoming candidate forum on October 23rd shed any light on his platform, I will update.
Billy Kennedy, incumbent Democrat
Billy Kennedy for Watauga on Facebook and billykennedyforwatauga.com
Kennedy was first elected to the Board of Commissioners in 2012, was reelected in 2014 to a 4-year term, and is now seeking his 3rd term. He is one of the most effective commissioners for being deeply involved in the boards and commissions that he sits on, is always thoroughly briefed on the commissioners' packet and the issues before him, and is a dependable progressive voice on the Board.
He is tireless, and has been an exceptionally strong backer of public education, raises for county employees, the new county recreation center, and he was outspoken in opposition to a new asphalt plant on the Doc and Merle Watson Scenic Byway.
Watauga County needs leaders that move progress forward, instead of trying to take us back.
Kennedy continues to be deeply invested in our community. For several years he engaged local issues as host of Watauga Talks on WATA-AM, and he's been a dependable volunteer for local projects like the community shelter in Bethel which he put his hands and building skills to helping complete.
He's a flat-out awesome and progressive commissioner, the kind of commissioner I want running things in Watauga.
BOARD OF COMMISSIONERS, District 4
Larry Turnbow, incumbent Democrat
Turnbow for Watauga on Facebook
Turnbow is completing his first term on the commission and is running for reelection. He is a hard-headed realist and a very strong and independent voice on the Board.
I have known Turnbow for years. He is a fierce advocate for progressive values. He has been a strong supporter of our public schools as a commissioner, and he was vocal in his opposition to an asphalt plant on the Doc and Merle Watson Scenic Byway. He has voted to increase the number of Security Resource officers in our schools. He has been forceful in pushing back against an unfunded county mandate by the state Department of Social Services that is both burdensome and unworkable for rural counties:
"I voted against [it] because I do not understand how the state can demand the county sign a contract that rural counties like ours cannot comply with. For example: Raleigh threatens to levy a fine on us if certain DSS cases are not heard within a week…even though the judge who hears those cases is in Watauga only once a month. Raleigh NEEDS to give us the opportunity to negotiate a fair contract."
Turnbow is a retired applied environmental microbiologist, with work experience in environmental management. He's also an A+ certified computer technician and an army veteran. He can always be counted on to see through the BS.
David Blust, Republican
David Blust for Watauga County on Facebook
Blust and his family are hobby breeders for "Kinglionheart Puppies," specializing in Cavalier King Charles Spaniels, Havanese, Cavanese and Cavapoos.
Blust is a friendly fella who served as a County commissioner for years until he lost his seat on the commission two years ago to Turnbow, and now he's trying to get it back. At this writing, his public platform, as indicated at a recent Blowing Rock forum, is basically to return us "to the good old days." He opposes the County's spending money in support of the Deep Gap Community fighting a proposed asphalt plant there, is still angry we built a new high school, thinks taxes are too high, and wants to install his brand of religion back in schools.
In past candidate interviews, both written and on video, Blust has said a county recreation center is needed and that when he was a commissioner, the Board was "heavily involved" in trying to get one off the ground. At the more recent candidate forum in Blowing Rock, Blust said he did not support the building of a new county recreation center. So take your pick.
Blust doesn't support greenways in flood plains, which to those in the know is of course the best use of floodplains, and he has bemoaned the high costs of keeping the County pool in operation, conveniently forgetting that he voted to throw money into its repair instead of replacing it when he had the chance years ago.
Blust plays the gregarious good-ole-boy (even though he's an outsider) and was never really known on the commission for being well prepared for meetings or for the job for that matter. He was fond of saying, "That's just what I was going to say" instead of offering an idea of his own.
Blust is still haunted (as he should be) by his 2006 assertion that ASU students should not be allowed to vote in local elections because the majority don't "find out or know what the candidates stand for." Maybe he should get to know them better.
BOARD OF COMMISSIONERS, District 5
Tommy Sofield, Republican
tommysofield.com and Tommy Sofield on Facebook
Sofield is a native Virginian, came to ASU on an athletic scholarship in 1971, and played varsity football for four years. While still a student, he launched a chain of Yogi's restaurants, catering to college students at ASU, NC State, and Mars Hill College. He got into real estate, buying and managing rental properties, and then into selling steel buildings which led him into manufacturing that same product. He branched out into explosion-proof buildings for toxic and volatile chemicals and then into ammunition storage facilities and military armories. Among other businesses, he also owns Mountaineer Cleaners and builds/sells backyard storage structures and high-end timber-frame buildings. He is an active member of Mt. Vernon Baptist Church.
In other words, Sofield looks for the world like a Chamber-of-Commerce type Republican, someone who would (and apparently does) support the new County Recreation Center. (He's vocal about wanting the Rec Center to produce a positive cash flow.) In almost the same breath, however, Sofield condemns raising any taxes to pay for new infrastructure or expand county services. He complains about the lack of a comprehensive plan for the county, ignoring the fact that a comprehensive plan was developed (Charlie Wallin, his challenger, had a big hand in it) and then promptly shoved to gather dust on the shelf by the Republican Board of Commissioners.
Interesting for a Republican Party always dead set against land-use planning, Sofield came out for "controlled growth" in his interview with the Blowing Rock News. He would also like to get his hands on Boone's new water supply for increased development countywide.
Sofield calls for more support for education, especially replacing aging school buildings, but how he squares that position with the Republican mantra of cutting taxes is another matter.
Charlie Wallin, Democrat
Wallin for Commission on Facebook
Wallin has worked for almost 30 years in food service management and is currently the Assistant Director of Food Services at Appalachian State University. During his tenure at ASU he has served on the Appalachian State Board of Trustees, on the committee that wrote the Strategic Plan for ASU, and as President of Appalachian State Staff Council. He's been a member of the Diversity Celebration and Unity Festival Planning Committee, Chair of the Occupational and Safety Committee, and a member of the University Safety Council.
Wallin was previously the Vice-Chair of the Watauga County Planning Board and subsequently chaired the Planning Oversight Group which completed the Citizens' Plan for Watauga County, the last comprehensive plan developed for the county. He is also the Vice-President of the Raven Rock Property Owners Association. Active for many years with the Watauga Democratic Party, Wallin is currently Chair of the party's 5th Congressional District committee. He has run for office before, for both county school board and for the 5th District congressional seat in 2016.
Wallin's platform includes seeing the new county recreation through; increased funding for the sheriff, fire departments, and ambulance service; an improved county employee pay structure; and stronger funding for the public library and local schools. He is frustrated by the state legislature's continued unfunded county mandates. He wants to focus the County's economic development on ways to promote and attract small to medium size businesses, and he supports a collaborative effort of resources to make our schools safer.
CLERK OF SUPERIOR COURT
Travis Critcher, Republican
critcherforclerk.com and Critcher for Clerk on Facebook
Critcher holds a BA in industrial management from ASU and a certificate in non-profit management from Duke.
From his website:
Travis Critcher currently serves as Director of International Field Support for Samaritan's Purse and leads a team responsible for the international business services that support Operation Christmas Child, a project that impacts more than eleven million children annually in 110 countries.
I cannot find where Critcher says he will be a better Clerk of Court than incumbent Diane Deal, but on his website he describes himself as a leader, a professional, a great manager, an optimist, a collaborator, and spiritual. He says he is a Watauga County native and that he was asked to run for this seat and wants to win it because it is a "servant leadership opportunity."
Diane Cornett Deal, incumbent Democrat
Diane Cornett Deal for Clerk on Facebook and dianeforclerk.com
Deal is completing her 2nd 4-year term, is running for reelection, and is a native Wataugan. She had decades of experience in the Clerk's office as an assistant to both John T. Bingham and Glenn Hodges before running herself in 2010 after Glenn Hodges' retirement. She and her family own and operate the Cornett Carolina Fraser Fir Christmas tree farm in Vilas.
Among other awards over the years, Deal was recognized as the Outstanding Woman in Agriculture at the Watauga County Farm City Banquet in 1994; was named Nurseryman of the year by Watauga County Christmas Tree Association in 2003; and received the Ben E. Suttle Special Service Award for Volunteer Leadership for her efforts in the area of farmland preservation, economic development, and sustainable communities in 2007.
Deal has a stong record of professional leadership and service and also serves as chair of the Finance Committee of the NC Conference of Clerks of Superior Court. In endorsing her for reelection, Anne Devoirsin Fisher wrote:
I have never met a Clerk of Court who did so much for the community she serves. As a lawyer with a statewide practice, I speak with a background of experience with Clerks of Court across the State — many fine public servants. When I moved here I was so surprised by not only her level of service but her positive attitude and generous approach to both the legal community and the public when it encounters the court system, whether voluntary or not. Diane also shines a bright light on Watauga County for all who visit here.
Deal is no-nonsense and non-partisan Clerk of Court who gets a good job done.
WATAUGA COUNTY SHERIFF
Len (L.D.) Hagaman, incumbent Democrat
2018 Re-Elect Sheriff Len Hagaman Jr. on Facebook
First elected to this office in 2006, and twice reelected in 2010 and 2014, Hagaman has proven himself a steady master of administration, management, and supervision of a large and active department — all qualities that a modern county sheriff must possess. He has every qualification in management of complex organizations.
Hagaman has served as both Watauga County manager and manager of the Town of Boone, before joining town management in the city of Lenoir, where he served several years before retiring. Among other policing responsibilities, he has served multiple times in cooperation with state, national, and Secret Service agencies to accommodate presidential and other VIP visits, and his reputation for conscientiousness and attention to detail is exceptional. He is very active in the community, as any good sheriff would be.
Hagaman has been an excellent sheriff, fair and balanced so to speak, with a highly professional manner. He says he's not much of a campaigner, but his local reputation is sterling.
David Searcy, Republican
SearcyForSheriff.com and Searcy for Sheriff on Facebook
Searcy is an actively serving North Carolina State Trooper stationed in Watauga. He has some 27 years of experience as a trooper and plans his retirement for the end of this year (at which time, if he's elected, he'll be a substantial "double-dipper" into the state's tax money, making him, we are told, one of the highest paid sheriffs in the state).
Searcy's website is good, and lists out a long list of priorties in domestic violence, At-Risk Youth programs, Drug Enforcement, and Training. But if incumbent Len Hagaman represents cerebral law enforcement management, David Searcy represents … muscle, as in, he wants you to know that you'd better not mess with him. He's proud of his physical prowess:
Highway Patrol Basic] School is designed to weed out those who do not have a strong will and desire to push through mental and physical challenges.
Searcy says on his website that the school he attended "mimicks" 24 weeks of Marine Corps boot camp. He is a specialized instructor in Subject Control and Arrest Techniques, Advanced Officer Survival, NCSHP Advanced Defensive Tactics, and Surviving the "First Three Seconds" (but can he ride a horse and handle a six-iron at the same time?).
He and other Watauga County Republicans have wanted to make an issue this year out of more cops in schools (because, a show of force, naturally seems to be his fallback position), and he espouses boilerplate NRA talking points: "I don't think we have a gun issue in the United States; I think we have a society issue." You know: guns don't kill people, people kill people.
NC SUPREME COURT ASSOCIATE JUSTICE SEAT 1
Barbara Jackson, incumbent Republican
justicejackson.com and Justice Barbara Jackson on Facebook
Jackson was elected to the NC Supreme Court in 2010 and is running for re-election. Before becoming an Associate Justice, Jackson was elected as a judge on the NC Court of Appeals and served for six years. Prior to her judgeship, Jackson practiced law for 14 years, including time as General Counsel to that real gem of misrule, Republican Cherie Berry in the NC Department of Labor.
Jackson's record on the bench is a clear indication of her partisanship and right wing conservatism: She ruled in favor of the school voucher program, which allows North Carolina to use public tax dollars to help send children to private and religious schools, while taking at least $19,585 in campaign contributions from school choice advocates.
She twice ruled to uphold partisan gerrymandered election maps, which the US Supreme Court struck down for being racial gerrymanders, and she wrote the decision that allowed Republican legislators to keep secret their email with lawyers who aided in the drawing of the unconstitutional maps.
She sided with her Republican colleagues in a dissent, ruling that the legislature should be able to strip powers from the governor, a move that conveniently only happened after Democrat Roy Cooper was elected to the office.
Chris Anglin, Republican
anglin4justice.com and Chris Anglin on Facebook
Here's how it went down. No. I am not making this up.

After the Republicans in the General Assembly passed a law making all judicial races in North Carolina partisan and moved the deadline for switching parties prior to filing for office … and after Chris Anglin followed that new law, switched his party from Democrat to Republican and filed for this Supreme Court seat within the deadline … the Republicans in the General Assembly passed Senate Bill 3 in a hastily-called special session, decreeing that only their favored candidate, GOP cheerleader Barbara Jackson, could have the Republican identification on this fall's ballot.
Anglin sued, charging that his constitutional rights had been violated and, long story short, he won.
Anglin is a 32-year-old leader of his own law firm in Raleigh, Anglin Law. He went to Wake Forest University as an undergraduate, then Elon University School of Law for his law degree. He's tried cases in both North Carolina State Superior Court and Federal Court. In 2014, he was selected for the North Carolina Bar Association's Leadership Academy.
Anglin told Jim Morrill and Anne Blythe:
I filed as a Republican to … stand up for the independence of the judiciary. The North Carolina judiciary has been "under constant assault. This is not a trick by the Democrats …. I didn't think I could sit on the sidelines any more and not take action.
Good on him.
Anita Earls, Democrat
earls4justice.com and Anita Earls 4 Justice on Facebook
Anita Earls is a legal rock star. She founded the Southern Coalition for Social Justice and served as its executive director and became a major warrior against voter suppression and the evils of gerrymandering. She was the lead attorney challenging the gerrymandering of the state, the voter ID law, and other voting restrictions. She's been an announced candidate for the Supreme Court since November of 2017.
.
I passionately believe in the importance of the right to vote, and that an independent judiciary is crucial to the balance of powers necessary to maintain democratic government of, by and for the people… In these times, I am seeing how those values are under attack, and I admire the determination of ordinary people who take great risks to stand up for their rights.
We've all watched for several years now as the Republican super-majority in the General Assembly rigged the system, or attempted to, save for the intervention of the courts, and we've held our breath in 2018 as the Republicans threatened the entire judicial system itself with gerrymandering and a plan to appoint all judges themselves, introducing outright patronage partisanship — a scheme that has now matured into the reality of a proposed constitutional amendment.
…Too often this political process feels like a powerful few rigging the system against a powerless many. In light of recent attacks on the independence of North Carolina's judiciary, and on the right of all citizens to cast a ballot that is counted equally, it is clear to me that I have to not just talk the talk, but also must have the courage to walk the walk."
The Democrats currently serving as a majority on the State Supreme Court have not been reliable progressives. They have proved shaky and nervous about challenging the GOP State legislature. So there is no race as important as this Supreme Court seat in North Carolina this year. Our democracy depends on stopping the drift and restoring the concept of checks and balances in government.
Earls won't back down. And perhaps she can share her backbone with the other Democrats sitting on that bench.
NC COURT OF APPEALS JUDGE SEAT 1
Andrew Heath, Republican
http://www.heathforjustice.com
Heath was appointed to a special Superior Court judgeship by Governor Pat McCrory between McCrory's defeat in November 2016 and his actual leaving office in December of that year. Heath had been McCrory's budget director, and McCrory needed to give him a landing pad after that defeat.
Andrew Heath attended UNC Asheville on an athletic scholarship where he received a Bachelor of Science in Business Administration and Management. He earned his law degree from Indiana University.
Under McCrory and before becoming McCrory's budget director, Heath served as Chairman of the North Carolina Industrial Commission and presided over appeals of workers' compensation cases. In his three years as chairman, he authored numerous legal opinions and managed all aspects of the Industrial Commission's operations and all 160 employees.
The News and Observer has reported that under Heath, the commission collected nearly $1 million in fines from noncompliant employers, compared with $175,000 two years earlier. One hundred employers were charged with related misdemeanors. Not bad.
John Arrowood, incumbent Democrat
http://keepjudgearrowood.org and John Arrowood on Facebook
Arrowood is famous in our household because of the way he was appointed to the bench by Governor Roy Cooper.
When Governor Cooper was sworn into office in December of 2016, the Republicans in the General Assembly were facing an unappetizing prospect. Three judges on the Court of Appeals — two of which were Republicans — were going to be forced into mandatory retirement during Governor Cooper's term, meaning he would get to appoint their replacements.
The troops under GOP legislators Phil Berger and Tim Moore got busy and came up with a new law reducing the Court of Appeals from 15 to 12 seats, meaning that those mandatory retirements would not be replaced at all. Governor Cooper vetoed that bill in April and before the Republicans could override the veto, Republican Judge Doug McCullough, one of the three facing mandatory retirement, retired suddenly and early to allow Cooper to appoint his replacement before the General Assembly could override that veto. Boom! Cooper appointed John Arrowood of Charlotte to the bench.
So now, naturally, the Berger/Moore machine has put a constitutional amendment on the ballot to give themselves appointment powers over all the judiciary.
John Arrowood had served on the Court of Appeals before. He was appointed to a vacancy by Governor Mike Easley in 2007 but lost election in 2008. He ran again in 2014 in a very crowded field of 19 candidates and came in second.
Arrowood has more than a quarter-century of legal experience behind him as a lawyer in private practice aside from his two stints on the Court of Appeals. He graduated from the UNC law school at Chapel Hill, clerked for NC Court of Appeals Judge Gerald Arnold, and also served as a staff attorney and head of the Court's central staff. He is vastly more experienced than his Republican opponent.
Arrowood is clear that the greatest current threat to a fair judiciary is the Berger/Moore General Assembly:
Article IV of the North Carolina Constitution establishes the General Courts of Justice as an independent co-ordinate branch of government and protects its power and jurisdiction from usurpation by other branches of government …. it is critical that our system be allowed to work independently without intimidation or the threat of interference by other branches of government.
Amen to that.
NC COURT OF APPEALS JUDGE SEAT 2
Open Seat (Republican Justice Ann Calabria is retiring)
Jefferson Griffin, Republican
http://www.jeffersongriffin.com and Jefferson Glenn Griffin on Facebook
Griffin graduated from the University of North Carolina at Chapel Hill and earned his law degree from N.C. Central University in 2008. He practiced law in Kinston before becoming a Wake County prosecutor in 2010. Former Gov. Pat McCrory appointed Griffin to the Wake County District Court bench in 2015, and he was elected to his current post in 2016.
Griffin says he wants to take this seat "to protect our Constitution" (whatever that means) and to enforce the rule of law fairly. He has been endorsed against fellow Republican Ray by the NCGOP.
Tobias (Toby) Hampson, Democrat
https://tobyhampsonforjudge.com and Toby Hampson for Judge on Facebook
Hampson is a Moore County boy who was plucked out for advanced studies during high school at the North Carolina School of Science and Math in Durham in 1994. He went on to earn his law degree in 2002 from Campbell University with multiple honors including a seat on the Law Review. He began his career at the North Carolina Court of Appeals clerking for judges K. Edward Greene, Wanda Bryant, and Bob C. Hunter. He then practiced with Patterson Dilthey in Raleigh focusing on trial and appellate litigation before joining Wyrick, Robbins, Yates & Ponton in Raleigh in 2007, where he now leads the firm's Appellate Practice group as a full partner.
Hampson is massively qualified for a seat on the appellate bench. He was named one of the "Top 100 Super Lawyers in North Carolina" (2015, 2017, 2018) by Super Lawyers Magazine. He was a top-rated appellate attorney by North Carolina Super Lawyers — recognized in Appellate Practice (2014-2018) and as a "Rising Star" (2010, 2011, 2012, 2013). He is recognized as "Legal Elite" in the area of appellate law (2018) and "Young Guns" (2010, 2012) by Business North Carolina magazine.
Sandra Alice Ray, Republican
https://www.sandraaliceray.com and Sandra Alice Ray on Facebook
I am drawn to Ray. She is a single mother of three, a district court judge in New Hanover and Pender counties, and she's not endorsed by the NCGOP. She is a graduate of NC State University and the Campbell University School of Law. She has specialized in juvenile justice in Pender County.
Ray has been endorsed by the NC Fraternal Order of Police & The NC Troopers Association among a long list of Judges and others.
I will bring a strong working knowledge of our Judicial System, our constitution and the laws of our state of the NC Court of Appeals. I clearly understand that my role as a Judge is to interpret the law as written and not make law from the bench. I am the only Republican NC Court of Appeals candidate to be endorsed by both the North Carolina Trooper's Association and North Carolina Fraternal Order of Police. I am also the only candidate for NC Court of Appeals Seat Two, not endorsed by a political party. Judicial positions should not be political. We represent the people. I want to be your judge, the people's judge.
NC COURT OF APPEALS JUDGE SEAT 3
Open Seat (Republican Justice Rick Elmore is retiring)
Chuck Kitchin, Republican
http://kitchenforcourtofappeals.com and Kitchin for Court of Appeals on Facebook
A little known fact: Kitchin is already of an advanced age, so that if he's elected to this seat on the court, he'll be forced into mandatory retirement by the end of his first term. One of the six amendments the NCGOP is trying to push down our throats would give them the right to appoint his replacement. Hmmmm.
Kitchin graduated with honors in 1977 from the University of North Carolina at Charlotte (B.A. in Humanities with a major in Philosophy) and received his law degree from Chapel Hill in 1980.
In addition to practicing in the North Carolina State courts, Kitchin practices in all three Federal Districts in North Carolina as well as before the Fourth Circuit Court of Appeals in Richmond.
Licensed to practice in 1980, Kitchen joined the Durham County Attorney's Office as an Assistant County Attorney. He had clerked for the Durham County Attorney's Office for the two summers while in law school. In 1986, he moved to Alamance County to become the County Attorney. He came back to Durham County as County Attorney in 1996 where he remained until his retirement in 2009. Following retirement, he went into private practice with the Stark Law Group in 2010. He subsequently joined the Turrentine Law Firm in 2012 where he stayed until 2016 when he rejoined the Stark Law Group.
Kitchin currently serves on retainer as the General Counsel for the Onslow Water and Sewer Authority in Jacksonville, NC. He also serves on retainer as Town Attorney for the Town of Holly Ridge, NC. Formerly, Kitchin served as an arbitrator with the American Arbitration Association (AAA) for commercial and construction arbitration.
Michael Monaco, Libertarian
http://nc-monaco-2018.com and Michael for NC on Facebook
According to the autobiography on his website, Monaco's son, Michael Jr., got him involved with the Libertarian Party, mainly propelled by disgust with the 2016 presidential campaign (a disgust many of us shared but who didn't then become Libertarians in response).
His legal experience seems a little sketchy (although fun to read):
I've practiced law for about 15 years, and was often looked down upon by my attorney peers because I did it part time and not for money. Basically, I was a pro-bono estate attorney helping ordinary families settle things by walking them through the Byzantine administrative process. This process is the same if you die with a billion dollars or $25,000. I helped people on the $25,000 end of the spectrum get through all the paper work. I got paid mostly in hugs and thank you notes.
Okay, commendable, but what qualifies him for the 2nd highest legal bench in the state? There's no answer to that question on his website.
Allegra Collins, Democrat
https://www.allegracollins.com and Allegra Collins for Court of Appeals on Facebook
Collins is an athlete with a pedigree of high-level competition. She represented the United States at the Pan American Games in 1999 and 2003 as a member of the United States Women's Handball Team. She was a "resident-athlete" at the United States Olympic Training Center in Lake Placid, NY, in preparation for the 2003 Pan American Games. She's played professional team handball in Italy and Germany. She received a full athletic scholarship (tennis) at both UCLA and the College of William and Mary. And she played on the professional tennis circuit, earning a world ranking in doubles.
In addition to her education at UCLA and William and Mary, she attended Campbell Law School in Raleigh for her J.D. She was no slouch at legal research either: While still a student, she received the I. Beverly Lake Constitutional Law Award for outstanding writing in constitutional law. She served an important apprenticeship under Court of Appeals Judge Linda Stephens, 2007-2010, and she's established her own practice specializing in appellate cases.
She knows the Court of Appeals inside-out. And she's the most progressive candidate running for this seat.
NC SUPERIOR COURT JUDGE, District 24
Gary Gavenus, incumbent Republican (unopposed)
I endorsed Gavenus for this seat in 2010 after much research because I thought he was the best candidate running for this seat. I have seen nothing since to dispel that assessment. Gavenus is not a partisan hack. He appears to take individual rights seriously and does not legislate from the bench. He is fair, principled, and open-minded. Maybe he is influenced by his wife who is a lifelong Democrat and social worker, working in community mental health.
NC DISTRICT COURT JUDGE, District 24
Larry Leake, incumbent Democrat (unopposed)
no website or Facebook page found
Some call Leake a "good ol' boy." I know Leake personally and really like him, mostly because he's wicked smart, cuts to the chase, and fights tooth and nail for what he believes is right. And he has a great sense of humor too.
Leake was appointed to his seat in February of 2017 by Governor Roy Cooper. He is a Mars Hill attorney who was previously chair of the State Board of Elections for several years. While chairing that board in 2009, he presided over the hearings that resulted in a $100,000 fine and a criminal referral against former governor and fellow Democrat Mike Easley.
He's an impartial justice, who delivers impartially.
WATAUGA BOARD OF EDUCATION
I'll be totally up-front: Gary Childers and Jay Fenwick are the only candidates running for School Board I trust with our schools. The others seem not only unqualified, they look preposterous in their pursuit of an extreme agenda for the public education of children.
Jay Fenwick, incumbent Democrat
http://www.jayfenwickforeducation.com and Jay Fenwick for Education on Facebook
Fenwick, an ASU professor from Todd, is completing his first term on the board and has been an outstanding, enlightened, innovative, and thoroughly reasonable public servant.
He explains himself very clearly:
I am passionate in my belief that education can transform and improve people's lives. This strong guiding principle has led me to devote my life and career to education. I am a computer science professor at Appalachian State University. My own children have been students in Watauga County Schools for 15 years and I've been fully invested in Watauga County education every step of the way.
A member of the Green Valley PTA for many years, Fenwick served for one year as treasurer and two years as president as well as on the Green Valley School Improvement Team and several teacher hiring committees. In 2005, he joined the board of the Watauga Education Foundation and served as president from 2009-2011. Fenwick also volunteered his expertise as a computer science professor to assist teachers in our schools with STEM (science, technology, engineering, and mathematics) curricula.
Danny Watts, Republican
Danny Watts on Facebook
Watts has a Zionville address but is from Winston-Salem, according to his FB page (which is far from enlightening). He doesn't even say he's a candidate for the school board.
He works at Greenway Baptist Church with young people there in sports "where his lifelong love for sports, for children and for God have gone hand-in-hand at the church."
Watts says he also works as a coach at Winston-Salem Christian School, but he is not listed anywhere among faculty/staff on its website. He also says he studied theology at Wake Forest University. Is that accurate? Hard to say. He told the Watauga GOP county convention in March that he wanted to bring public schools into alignment with his Christian vision, which is obvious:
To be completely honest with you, I don't think the Democratic Party, the liberals of this county, put the kids first. Any of the candidates we have will be better than any of the candidates the liberals will have.
Gary L. Childers, unaffiliated incumbent
no Facebook page or website found
Childers has served decades in the public schools as both teacher and administrator. He was appointed to this seat in June 2017 to fill out Barbara Kinsey's term and is now running in his own right. He has been a smart and steady hand on the Board since appointed.
Childers accepted a teaching position at Hardin Park School in 1973. He taught at Hardin Park until becoming an assistant principal at Parkway School in 1978. He then became principal at Bethel School in the Fall of 1979 and served until 1986 when he went back to Parkway to serve as principal.
In 2001 Childers became principal at Watauga High School and served there until he retired. Following retirement, he worked as an independent education consultant and a member of the Leadership Group of the Carolinas to find ways to assist underachieving high schools. He is currently serving as Executive Director of the High Country United Way.
Steve Combs, Republican
Steve Combs on Facebook
Combs served three 4-year terms on the Board of Education as a conservative Democrat, stepping down in 2012. He tried unsuccessfully to win Clerk of Court in 2010. A year or so ago he changed his registration to Republican and is running under that banner for his old office.
Combs participated in this year's Watauga GOP convention with his fellow Republican school board candidates, and they all thumped the Bible pretty good. If you read the Bible the way I read the Bible, God is not a liberal," Combs preached.
Years ago, while on the school board, he expressed a preference for balancing evolution with creationism. He wrote on Facebook, "I am running for all those folks who feel like they dont have a voice , becuase I know what effects kids effects family's.
Jason K. Cornett, incumbent Republican
Jason K Cornett Watauga County Board of Education on Facebook
Cornett has served on the Watauga School Board for the last four years. In May of this year he joined in liberalizing the dress policy for young women at Watauga High School, making the vote of the board unanimous. That vote suggests that he behaves one way in front of insistent GOP demands but much more moderately with his School Board peers?
In fact, he has played well with other members of the Board for the most part.  Nonetheless, "This is my platform," Cornett thundered at March's GOP convention, holding up his Bible.
Cornett has a long law enforcement career and is a strong supporter of placing additional Security Resource Officers in every County school. He is currently Business Owner of Jaybird Aerial Photography, LLC, the video company that produced the "One Percent GOP Party" video earlier this year.
SOIL AND WATER CONSERVATION DISTRICT SUPERVISOR
Chris Hughes, Republican
Chris Hughes Watauga Soil and Water Conservation District Supervisor on Facebook
Hughes is running hard for this office. Hard. From his Facebook page, you might get the impression he was running for the General Assembly in Raleigh, since he appears to have many political opinions. He says he supports the Agribusiness Economy, bees, and clean air and water. He prayed at the opening of the Watauga GOP headquarters. He testified in front of the NC House Select Committee on School Safety. He's campaigned on the ASU campus and at the Farmers Market. He takes many selfies.
But then there's this. According to his website, Hughes is "a Leadership and Workforce Expert and an Advocate for Cultural Transformation."  What kind of cultural transformation? His site goes on to say:
In his travels, he also works to inform and mobilize Pastors and Christians to be proactive in restoring a Biblical worldview framework in their communities and across the nation.
I looked further. His 2007 book, Revelation Revealed, sells on Amazon for $22.99 and describes Hughes as:

Chris Hughes is an author, speaker and evangelist. Chris Hughes is the Founder and Chairman of Salvation Ministries, an international organization that is dedicated to winning lost souls to Jesus Christ. Salvation Ministries hosts Crusades, Pastor Training Courses, Revivals, and Disaster Relief around the world…. Chris Hughes has authored four books, hosts two television shows and serves as a columnist for the Northwest Florida Daily News.
His earlier book, Fat Boy's Guide to Grilling, is slightly less expensive in paperback for $15.99. Dude, why do you want to be Soil and Water Supervisor?
Bill Moretz, unaffiliated
no website or Facebook page found
Moretz has been a fixture at the Watauga Farmers Market approximately forever, and he's an expert on heritage apples and other native plants. He was an outspoken opponent of land-use planning in 2002 when Democrats on the County Commission proposed restrictions on "high-impact land uses." Still, I know him to be man who believes in stewardship of our environment, he's a very hard worker, and he puts his money where his mouth is.
Joey Clawson, incumbent Republican
no website or Facebook page found
Joey Clawson is a Christmas tree grower and has been active in the Christmas Tree Growers Association. His tree lot, Clawson's Choose and Cut in Meat Camp, was featured in a Watauga Democrat article in 2014.
Clawson expanded his business, bought more tree lots, and expanded into wholesale supply. He's now owner of Panoramic View Christmas Tree Farm in Boone.