NC COURT OF APPEALS SEAT JUDGE SEAT 2
Open Seat (Republican Justice Ann Calabria is retiring)
Jefferson Griffin, Republican
http://www.jeffersongriffin.com and Jefferson Glenn Griffin on Facebook
Griffin graduated from the University of North Carolina at Chapel Hill and earned his law degree from N.C. Central University in 2008. He practiced law in Kinston before becoming a Wake County prosecutor in 2010. Former Gov. Pat McCrory appointed Griffin to the Wake County District Court bench in 2015, and he was elected to his current post in 2016.
Griffin says he wants to take this seat "to protect our Constitution" (whatever that means) and to enforce the rule of law fairly. He has been endorsed against fellow Republican Ray by the NCGOP.
Tobias (Toby) Hampson, Democrat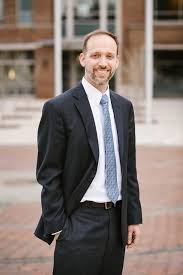 https://tobyhampsonforjudge.com and Toby Hampson for Judge on Facebook
Hampson is a Moore County boy who was plucked out for advanced studies during high school at the North Carolina School of Science and Math in Durham in 1994. He went on to earn his law degree in 2002 from Campbell University with multiple honors including a seat on the Law Review. He began his career at the North Carolina Court of Appeals clerking for judges K. Edward Greene, Wanda Bryant, and Bob C. Hunter. He then practiced with Patterson Dilthey in Raleigh focusing on trial and appellate litigation before joining Wyrick, Robbins, Yates & Ponton in Raleigh in 2007, where he now leads the firm's Appellate Practice group as a full partner.
Hampson is massively qualified for a seat on the appellate bench. He was named one of the "Top 100 Super Lawyers in North Carolina" (2015, 2017, 2018) by Super Lawyers Magazine. He was a top-rated appellate attorney by North Carolina Super Lawyers — recognized in Appellate Practice (2014-2018) and as a "Rising Star" (2010, 2011, 2012, 2013). He is recognized as "Legal Elite" in the area of appellate law (2018) and "Young Guns" (2010, 2012) by Business North Carolina magazine.
Sandra Alice Ray, Republican
https://www.sandraaliceray.com and Sandra Alice Ray on Facebook
I am drawn to Ray. She is a single mother of three, a district court judge in New Hanover and Pender counties, and she's not endorsed by the NCGOP. She is a graduate of NC State University and the Campbell University School of Law. She has specialized in juvenile justice in Pender County.
Ray has been endorsed by the NC Fraternal Order of Police & The NC Troopers Association among a long list of Judges and others.
I will bring a strong working knowledge of our Judicial System, our constitution and the laws of our state of the NC Court of Appeals. I clearly understand that my role as a Judge is to interpret the law as written and not make law from the bench. I am the only Republican NC Court of Appeals candidate to be endorsed by both the North Carolina Trooper's Association and North Carolina Fraternal Order of Police. I am also the only candidate for NC Court of Appeals Seat Two, not endorsed by a political party. Judicial positions should not be political. We represent the people. I want to be your judge, the people's judge.