NC DISTRICT COURT JUDGE, District 24
Larry Leake, incumbent Democrat (unopposed)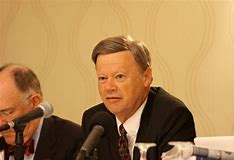 no website or Facebook page found
Some call Leake a "good ol' boy." I know Leake personally and really like him, mostly because he's wicked smart, cuts to the chase, and fights tooth and nail for what he believes is right. And he has a great sense of humor too.
Leake was appointed to his seat in February of 2017 by Governor Roy Cooper. He is a Mars Hill attorney who was previously chair of the State Board of Elections for several years. While chairing that board in 2009, he presided over the hearings that resulted in a $100,000 fine and a criminal referral against former governor and fellow Democrat Mike Easley.
He's an impartial justice, who delivers impartially.