NC SUPREME COURT ASSOCIATE JUSTICE SEAT 1
Barbara Jackson, incumbent Republican
justicejackson.com and Justice Barbara Jackson on Facebook
Jackson was elected to the NC Supreme Court in 2010 and is running for re-election. Before becoming an Associate Justice, Jackson was elected as a judge on the NC Court of Appeals and served for six years. Prior to her judgeship, Jackson practiced law for 14 years, including time as General Counsel to that real gem of misrule, Republican Cherie Berry in the NC Department of Labor.
Jackson's record on the bench is a clear indication of her partisanship and right wing conservatism: She ruled in favor of the school voucher program, which allows North Carolina to use public tax dollars to help send children to private and religious schools, while taking at least $19,585 in campaign contributions from school choice advocates.
She twice ruled to uphold partisan gerrymandered election maps, which the US Supreme Court struck down for being racial gerrymanders, and she wrote the decision that allowed Republican legislators to keep secret their email with lawyers who aided in the drawing of the unconstitutional maps.
She sided with her Republican colleagues in a dissent, ruling that the legislature should be able to strip powers from the governor, a move that conveniently only happened after Democrat Roy Cooper was elected to the office.
Chris Anglin, Republican
anglin4justice.com and Chris Anglin on Facebook
Here's how it went down. No. I am not making this up.

After the Republicans in the General Assembly passed a law making all judicial races in North Carolina partisan and moved the deadline for switching parties prior to filing for office … and after Chris Anglin followed that new law, switched his party from Democrat to Republican and filed for this Supreme Court seat within the deadline … the Republicans in the General Assembly passed Senate Bill 3 in a hastily-called special session, decreeing that only their favored candidate, GOP cheerleader Barbara Jackson, could have the Republican identification on this fall's ballot.
Anglin sued, charging that his constitutional rights had been violated and, long story short, he won.
Anglin is a 32-year-old leader of his own law firm in Raleigh, Anglin Law. He went to Wake Forest University as an undergraduate, then Elon University School of Law for his law degree. He's tried cases in both North Carolina State Superior Court and Federal Court. In 2014, he was selected for the North Carolina Bar Association's Leadership Academy.
Anglin told Jim Morrill and Anne Blythe:
I filed as a Republican to … stand up for the independence of the judiciary. The North Carolina judiciary has been "under constant assault. This is not a trick by the Democrats …. I didn't think I could sit on the sidelines any more and not take action.
Good on him.
Anita Earls, Democrat
earls4justice.com and Anita Earls 4 Justice on Facebook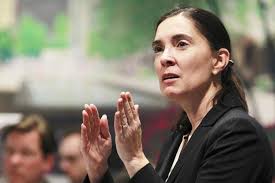 Anita Earls is a legal rock star. She founded the Southern Coalition for Social Justice and served as its executive director and became a major warrior against voter suppression and the evils of gerrymandering. She was the lead attorney challenging the gerrymandering of the state, the voter ID law, and other voting restrictions. She's been an announced candidate for the Supreme Court since November of 2017.
.
I passionately believe in the importance of the right to vote, and that an independent judiciary is crucial to the balance of powers necessary to maintain democratic government of, by and for the people… In these times, I am seeing how those values are under attack, and I admire the determination of ordinary people who take great risks to stand up for their rights.
We've all watched for several years now as the Republican super-majority in the General Assembly rigged the system, or attempted to, save for the intervention of the courts, and we've held our breath in 2018 as the Republicans threatened the entire judicial system itself with gerrymandering and a plan to appoint all judges themselves, introducing outright patronage partisanship — a scheme that has now matured into the reality of a proposed constitutional amendment.
…Too often this political process feels like a powerful few rigging the system against a powerless many. In light of recent attacks on the independence of North Carolina's judiciary, and on the right of all citizens to cast a ballot that is counted equally, it is clear to me that I have to not just talk the talk, but also must have the courage to walk the walk."
The Democrats currently serving as a majority on the State Supreme Court have not been reliable progressives. They have proved shaky and nervous about challenging the GOP State legislature. So there is no race as important as this Supreme Court seat in North Carolina this year. Our democracy depends on stopping the drift and restoring the concept of checks and balances in government.
Earls won't back down. And perhaps she can share her backbone with the other Democrats sitting on that bench.