US HOUSE OF REPRESENTATIVES, District 5
Virginia Foxx, incumbent Republican
virginiafoxx.com and Virginia Foxx for Congress on Facebook
Foxx is easy to satirize and mock, but she's no laughing matter. In many ways, she's the perfect complement to Donald J. Trump, since she's always been about self-promotion and what's "in it for me?" She's mean by nature and selfish by nature and, I think, dishonest by nature. Many people laugh about the way she stuffs her handbag with free food at buffet events, but it's an index to her character: "All for me, none for you. If it's just lying there, I'll take it!"
Another index to her character: She's worked to mislead people in her district to think that she's a Southern Baptist, when she's actually a Roman Catholic. Doesn't that speak to an inherent dishonesty?
Foxx is clearly terrified of confrontation of even the mildest sort, since she absolutely refuses to hold town hall type meetings except for the phone-in sort, where she can pre-screen the callers.
She brooks no opposition, but she's brittle to the touch. She's also remarkably flexible in her views when getting ahead politically is to be gained. She used to be a feminist, a supporter of abortion rights and of the Equal Rights Amendment, but when rising in the Republican Party meant she had to give up those views, they got thrown out with the trash. She also once was considered "gay friendly," but now she takes the opportunity to dismiss gays, even those who have been tortured and killed because of their sexual orientation. And even with their families sitting in the audience.
Her voting record is 100% anti-progressive on every front. Just the other day she even stuck it to her home state by being the only member of the North Carolina congressional delegation to vote against $1.68 billion in recovery funds for the Carolinas after Hurricane Florence. Sometimes she's mean just for the hell of it.
DD Adams, Democrat
ddadamsforcongress.com and DD Adams for Congress on Facebook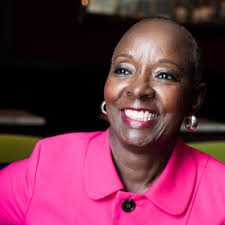 Adams won the Democratic nomination for the US House in the May 8th primary. She ran against Jenny Marshall, who ran a very organized and energetic campaign, by carrying Forsyth County alone. Marshall carried every other county in the 5th District.
Forsyth gave Adams the nomination because they know her — she's been on the Winston-Salem City Council since 2009 — and they like her for her performance, and they like her for this job. I like her too. She's got courage and forthrightness and a stout heart, and she brings a damn good presence that makes her a riveting speaker, and people who meet her tend to support her.
I support policies that serve our communities: a safe, healthy society, a strong economy and well-educated workforce. I believe that within our local communities and in our greater society, we all benefit when families and individuals are able to achieve their highest potential. I also have REAL WORLD experience. I've worked hard, been downsized, been laid off, been underpaid, lost my health insurance, been a Teamster, faced inequality—and that makes me an even better representative for families in our District.
Adams is the eighth Democrat to take on incumbent Republican Virginia Foxx, who has rolled seven previous Democrats since her first election in 2004. Republicans assume Adams will be her eighth. Foxx's campaign war chest, her well known constituent services, and her image as a good old Baptist grandma with a reputation for stinginess – that's the persona that gets Foxx reelected (even though it's not who she really is.)
Forsyth is the key to an Adams' win, and Forsyth supports Adams because they know her well. Watauga (Foxx's home county) doesn't support Foxx because we know her well.
Plus — let's just get this over with — DD Adams is African American in a House district where even registered Democrats wouldn't vote for Obama in 2008 because… Civil War. I know it, you know it, we all know it. So how on earth can Adams ever win it?
Foxx was last reelected in 2016 with 207,625 votes against Josh Brannon's 147,887. That's her highest vote tally ever:
— 96,000 votes — that's all she got in her first reelection contest in 2006 against Roger Sharpe
— 190,000 – 200,000 votes — her totals in presidential years, always winning easily
— 140,000 votes — her standard tally in non-presidential years, which also gets her reelected easily, but then she's never had all of Forsyth County in her district before either, and those new voters are blacker and also more educated (Wake Forest University is now in her district).
In other words, Foxx's hardcore base is somewhere between 96,000 and 140,000 voters in non-Presidential elections. (In presidential years, another 60,000-80,000 Republicans show up and vote for her, but they don't pay that much attention to her otherwise.)
So let's say only Foxx's hardcore base — up to 140,000 voters — turns out for her in the non-presidential year of 2018 — why, Forsyth and Watauga alone could elect Adams, if Democratic enthusiasm continues to run high. AND if Adams can pull a substantial proportion of unaffiliated votes:
Forsyth County
104,381 registered Dems
76,486 registered Unaffiliated
(Republicans number 75,734)
Watauga County
12,137 registered Dems
19,000 registered Unaffiliated
(Republicans number 14,036)
Realistically, Adams needs decent Democratic support in all the rural counties. With heavy turnout in Forsyth and Watauga, and with respectable support in the other counties, she has a shot at winning. Yes, she can.