WATAUGA COUNTY SHERIFF
Len (L.D.) Hagaman, incumbent Democrat
2018 Re-Elect Sheriff Len Hagaman Jr. on Facebook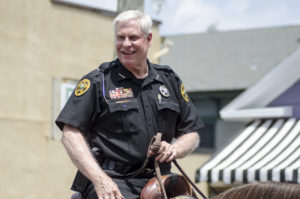 First elected to this office in 2006, and twice reelected in 2010 and 2014, Hagaman has proven himself a steady master of administration, management, and supervision of a large and active department — all qualities that a modern county sheriff must possess. He has every qualification in management of complex organizations.
Hagaman has served as both Watauga County manager and manager of the Town of Boone, before joining town management in the city of Lenoir, where he served several years before retiring. Among other policing responsibilities, he has served multiple times in cooperation with state, national, and Secret Service agencies to accommodate presidential and other VIP visits, and his reputation for conscientiousness and attention to detail is exceptional. He is very active in the community, as any good sheriff would be.
Hagaman has been an excellent sheriff, fair and balanced so to speak, with a highly professional manner. He says he's not much of a campaigner, but his local reputation is sterling.
David Searcy, Republican
SearcyForSheriff.com and Searcy for Sheriff on Facebook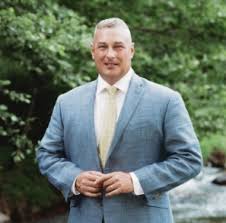 Searcy is an actively serving North Carolina State Trooper stationed in Watauga. He has some 27 years of experience as a trooper and plans his retirement for the end of this year (at which time, if he's elected, he'll be a substantial "double-dipper" into the state's tax money, making him, we are told, one of the highest paid sheriffs in the state).
Searcy's website is good, and lists out a long list of priorties in domestic violence, At-Risk Youth programs, Drug Enforcement, and Training. But if incumbent Len Hagaman represents cerebral law enforcement management, David Searcy represents … muscle, as in, he wants you to know that you'd better not mess with him. He's proud of his physical prowess:
Highway Patrol Basic] School is designed to weed out those who do not have a strong will and desire to push through mental and physical challenges.
Searcy says on his website that the school he attended "mimicks" 24 weeks of Marine Corps boot camp. He is a specialized instructor in Subject Control and Arrest Techniques, Advanced Officer Survival, NCSHP Advanced Defensive Tactics, and Surviving the "First Three Seconds" (but can he ride a horse and handle a six-iron at the same time?).
He and other Watauga County Republicans have wanted to make an issue this year out of more cops in schools (because, a show of force, naturally seems to be his fallback position), and he espouses boilerplate NRA talking points: "I don't think we have a gun issue in the United States; I think we have a society issue." You know: guns don't kill people, people kill people.